Cultivate a Love for Fine Art with The NEW Museum Tour Playset from Cityspots
Instilling a love of art & culture has never been easier with the first ever Museum Tour Playset, the first art museum playset of its kind that allows kids to explore an Art Museum featuring real works of famous modern art from home!
With Cityspots' NEW Modernism Edition of the Museum Tour Playset, you can take them on a trip to the ultimate kid-friendly museum where they can *gasp* touch the paintings, write on the walls and make their own rules as they curate their own exhibitions!
This chic playset for ages 3-7, will open their young and curious minds to the styles and lives of some of the most prominent artists of our time.
They'll be able to create their own museum gallery using the included magnets featuring famous works of modern art and by creating their own art on the whiteboard museum walls!  Hours of play are included in this playset which also includes a double sided playmat with a follow along trail that allows the child to easily follow along with the book and 'visit' each artist in their studios!
Museum Tour Playset Highlights:
· Promotes imaginative play with an educational purpose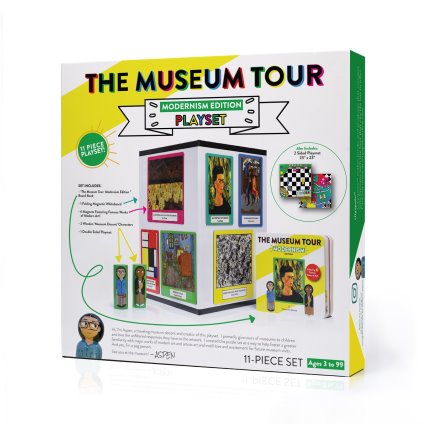 · Introduces children to fine art and culture
· Pique their interest for future museum visits
· Teaches kids about iconic artists including:
Jacob Lawrence
Frida Kahlo
Piet Mondrian
Jackson Pollock
Yayoi Kusama
Vincent Van Gogh
· Includes a 22 page board book about the art and its artists, a flexible magnetic whiteboard, double sided playmat, and two wooden museum docent characters
· Safety rated for ages 2+!
Whether you're looking for educational toys or a new way to make art history come alive in your school or home study, The Museum Tour Playset offers hours of educational fun!
To learn more, visit www.cityspotsonline.com
And available on Amazon!