Celebrate 'Insecure' Season Premiere with Virtual Block Party
In celebration of the season four premiere of the hit comedy "Insecure," HBO will host its fourth annual block party for the series virtually.
Starting on Sunday, April 12 at 8:00PM ET, the four-part VIRTUAL BLOCK PARTY lineup will feature a Q&A with series creator and star Issa Rae and the cast on her Instagram Live, an Instagram Live DJ set with Zaytoven, and a live Twitter watch party hosted by Rae.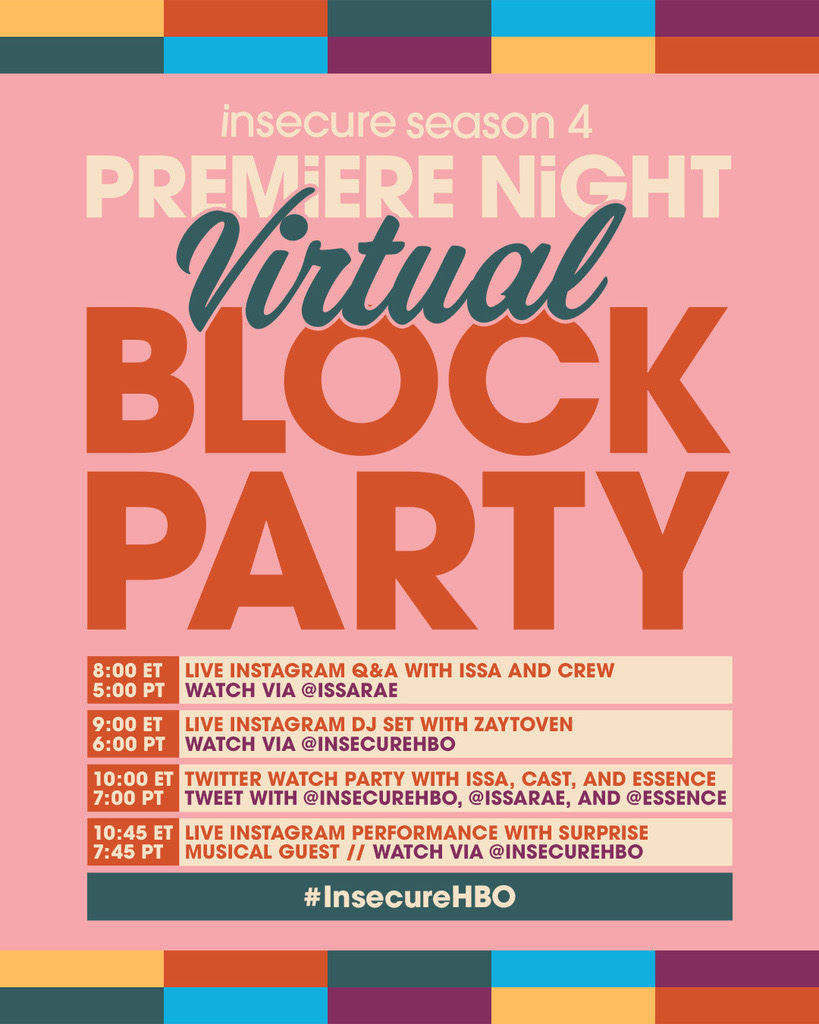 Following the season's premiere at 10:00PM ET, there will be a surprise musical performance on Instagram Live from an artist featured in the upcoming season.
VIRTUAL BLOCK PARTY ITINERARY:
Sunday, April 12, 2020
8:00 PM ET / 5:00 PM PT
Live Instagram Q&A with Issa and Crew
Watch via @IssaRae
9:00 PM ET / 6:00 PM PT
Live Instagram DJ Set with Zaytoven
Watch via @InsecureHBO
10:00 PM ET / 7:00 PM PT
Twitter Watch Party with Issa, Cast, and Essence
Tweet with @InsecureHBO, @IssaRae and @Essence
10:45 PM ET / 7:45 PM PT
Live Instagram Performance with Surprise Musical Guest
Watch via @InsecureHBO
Music and community have always been central to the series. The annual block parties started as an intimate daylong gathering in Brooklyn, NY for season one, expanded to Inglewood, CA for season two, and culminated with over 2,500 fans attending Insecure Fest at Banc of California Stadium last season. This year's VIRTUAL BLOCK PARTY moves the event online, with the potential to engage even more passionate "Insecure" fans.
Hope to see you all there!
By Michael Jacobo
Photo: HBO