Veronica St. Clair And Her Time on "LA BREA"
Starring in LA BREA, Veronica St. Clair continues to explore herself and the world through acting. Having filmed in Australia at the height of the Delta variant, the experience was definitely different but luckily, working with the cast and crew made it easier. Drawn to darker themes and characters from a young age, the actress saw something different in the villains. Ready for season 2 of LA BREA, Veronica St. Clair continues her uphill climb to success!
What has acting done for you up until now?
Acting has provided a creative outlet. I've been able to process all of my own humanity through the telling of others' stories. I get to live lives I might not normally get to otherwise. I've also traveled to new places and met some of the most inspiring, first-class people through the craft.TL;DR: a life! Acting has given me a rich, juicy life!
Looking back on your first audition ever, what beliefs of yours about the industry have evolved and how?
My first audition actually came after I had been scouted by Disney Channel casting directors at one of my high school performances. I was heavily involved in my high school's show choir and after one of our shows, I was surprised to learn I was invited to audition for Disney Channel's Teen Beach Movie. I think my beliefs about the industry have largely remained the same: anything can happen and often, they can happen when you least expect. I could have never anticipated the career I've had in this industry thus far, and–my god–I am so grateful for that. The surprises make this journey so much more fun and fulfilling.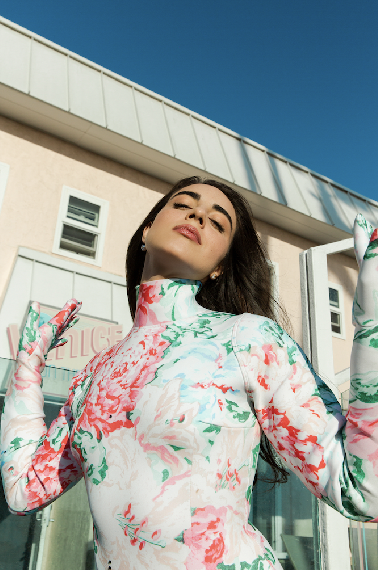 Describe to us the moment you knew you wanted/had to become an actress. 
Oh, there were so many moments that, together, finally pushed me to pursue acting. But I do remember being awe-struck while watching Shirley Temple tap dance on film. Specifically, watching her tap dance with Bill Robinson on those steps–that's a core memory for sure. My neighbor and I would sit on the floor in front of the tv for hours watching all of the Shirley Temple films on VHS. Seeing another child my age on film planted a seed that it was possible; if she could do it, I could do it.
On set of LA BREA, what were some challenges you faced? Explain. 
We shot La Brea over the course of 6 months in Melbourne, Australia at the height of Covid-19's Delta variant surge. Curfews were implemented, all shops were closed, and while I am grateful for the safety precautions, it was very hard being so isolated. Filming La Brea with all of the wonderful people involved was my saving grace.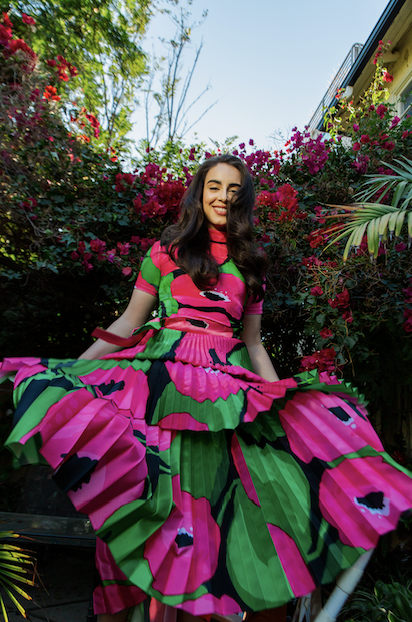 In what ways do you resemble your character? And differ?
Riley is way cooler than I am. She's absolutely dripping–wears three gold chains at all times and rings on every finger. She's so much bolder in her expression than I was at 19. Also, she's a Scorpio. Ha! I'm an Aries. But Riley is fiercely independent, deeply loving, sarcastic, antagonistic, and ultimately, a truth-seeker. I think we're similar in those ways.
If a scenario like the one in the show would happen, what top 3 things would you want with you in the other world?
Easy.
a deck of cards
a genie in a bottle, baby
and
a Macy's
Growing up, what was your favorite way to "make-believe"?
I would either walk far ahead or far behind my parents while pushing my baby brother in his stroller because I thought strangers would believe I was a tortured and struggling too-young mother.
What projects/ characters have you always been drawn to you? Why were they some of your favorites growing up?
I grew up always being very drawn to darker themes and characters. In my adolescence, I loved Alice in Wonderland, Beetlejuice, Coraline, and The Great Mouse Detective. Later, The Green Mile and The Iron Mask would spark my interest in film. I think I related more to the darkness and to the villain characters. I felt more seen by the nuance–humanity is so much more rich and grey than the obvious saccharine and black and white of princes and princesses.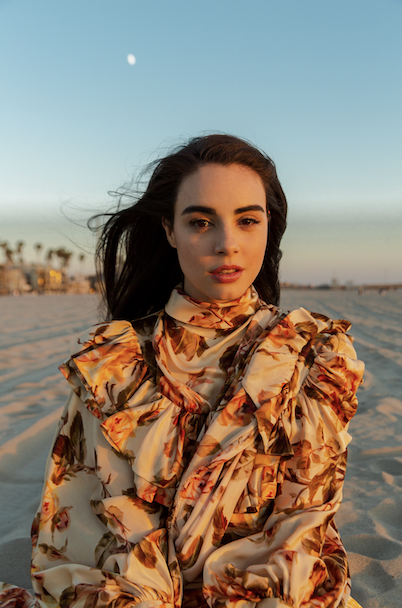 It's 2022, wow. What are some of your resolutions?
My mantra for 2022 is keep showing up. No short-cuts! As always, I'm seeking balance, and I want to pour into myself as much as I want to pour into others. Also, more art! Just like every year before it, 2022 is *the* year. I adore the fresh start of a new calendar year. <3
Any upcoming projects?
La Brea Season 2!!! It's going to be even bigger and better than Season 1. I can't wait to begin shooting again. There is something so truly magical about getting to step into another world, especially like the one we've been able to create in La Brea.
@VULKANmag
@veronicastclair
Photos By Joelle Grace Taylor @joellegrace
Interview by Alexandra Bonnet @alexbonnetwrites