Pocket Size Tech Device Eliminates Germs!
Don't just clean it. Sterilize it! UV Care USA is proud to introduce their pocket-size UV-C light sanitizer that's easy to take on the go! Eliminate germs at the restaurant, on the airplane, in the classroom, on your phone and laptop keyboard – and more!!  More info and photos are below on this breakthrough tech device that eliminates harmful germs, bacteria, viruses, allergens, and molds!
Now more than ever, it's important to keep surfaces and personal items clean and UV Care USA has a breakthrough pocket sanitizer that provides the most convenient way to stay germ-free!
This UV-C light technology is the chemical free way to clean by simply flipping open the unit and pressing the "ON" button for five seconds. Quickly eliminate harmful germs, bacteria, viruses, allergens, and molds by shining the light for a few seconds within 1/4 inch of the surface area or object to disinfect!
This must-have gift of 2020 can be used at home, restaurants, schools, planes- you name it! Highlights include:
Eliminates harmful germs, bacteria, viruses, allergens and molds using UV-C light technology
Lab-tested, chemical free, and doctor-recommended
Perfect for sanitizing mobile phones, gadgets, keyboards, door knobs, toys, pacifiers, high chairs and countertops
Portable, lightweight, and easy-to-use design
Safety switch feature turns the UV-C light off when turned upward
Powered by four AAA batteries or Mini USB Cable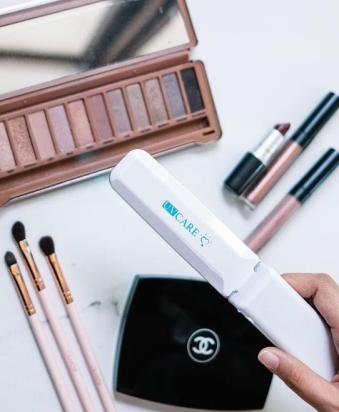 Easy to take with you on the go, get rid of germs and bacteria with one quick light shine!  Sterilize in style with this breakthrough Pocket Sterilizer design!
 $42.99 – learn more on https://theuvcare.com/
And available on Amazon!